Linda has arrived!!
2012.04.10.
It all started with a conversation about one and a half years ago. Everything that has happened since then can be called another NOAH's miracle
It turned out that a middle-aged collared baboon lady lived not far from the Animal Shelter. In peace and love among her family.




The family had been looking for a good solution for their beloved Linda for years as they had been aware that they couldn't provide the right sized place and enough time what this mammal needed for a happy life.


We didn't think a year and a half ago that our fate would be connected and that this link would be this lovely, a bit overweight baboon girl Linda.

The first meeting was followed by acts. We looked up the licence and the required conditions. We kept counting and thinking. We didn't want to make an irresponsible decision but we felt that we had to help. It turned out quickly that we had enogh space, we were able to meet the conditions so finally we made the decision: Linda could move in. We published it a year ago and we started the construction works 7 months ago. We still can't believe that she is here and we hope she will be happy with us.

But let's start it at the beginning as she couldn't be here without our Angels' help.

We made a short film and asked for your help as we couldn't afford to build up a luxury site but we didn't want to give less than that to Linda.



Fortunately you fell in love with this overweight lady so the works begun last summer. Needless to say we made most of the work on our own but with the help of professionals.




As the works went by and we got all the permits we needed the day of her moving was getting closer. We were looking forward to having her here and counted the days till her arrival. We arranged and organized everything because moving an adult baboon was not an easy task and we wanted to take our time and make her examined by a specialist.

Everybody was awake early morning, our volunteers worked in the Shelter and was preparing for Linda's arrival. The specialist and the vets were there with Linda early morning.

Lindus might have suspected something as she didn't have breakfast and there were too many people around her.




She was made asleep so she could be examined safe and peace and transported to her new home.




The house's garage was turned into a temporary surgery where she was examined by the newest machines, ultra sound and X-Ray.


After all the necessary examinations we put Linda into her transport box.




Miután minden szükséges vizsgálaton túl voltunk, Lindát betettük a neki készített szállítódobozba.





After the short trip we arrived to the Shelter, which was crowded with the volunteers who were waiting for her.





The still sleeping baboon was put in her new home and her previous owners were with her all time long.




Everybody had a chance to have a look or touch her.




Since then all we had to do is to wait for her to wake up. She slowly started to wake up and although she was a bit dizzy she explored the inner side of her new home.




She had an opinion about the happenings.




She can use only the inner side of her place for a few days but as soon as she gets use to the situation, her new environment, the smells, voices and sights she can spend more and more time out there.




We've received the results of her examination. She is perfectly healthy, her buttocks are a bit inflamed and one of her teeth needs to be pulled out in the future but apart from these she can live a long and happy life among us.




Thanks for everyone for their support, financial or material donation and made her new life here possible. We want to thank Tóth Tibor, the animal care of Jászberény Zoo who prepared the moving and promised to supervise and help our work. Also many thanks to Dr Liptovszky Mátyás and Dr Kerekes Zoltán for the examination and their professional advices. Thanks to Linda's previous family for having faith in us and let us have her.


The real adventure is just about to start. You're welcome to come and visit Linda on the farmyard in her new home.

A program called 'Napló'at TV2 was curious about Linda's story and her arrival she they were with us from sunrise and documented everything that happened.



Photos about her move can be seen HERE!

Linda's photo gallery can be seen HERE!

Linda's supporters will get a budge: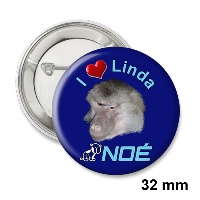 A Tetszik gomb eléréséhez sütik engedélyezése szükséges.
Share