If you have questions about Bipper, please send an e-mail to !
She was found in 2009 when she was only a little cute white, brown-spotted puppy. Luckily she wasn't our guest for a long time, someone adopted her very fast.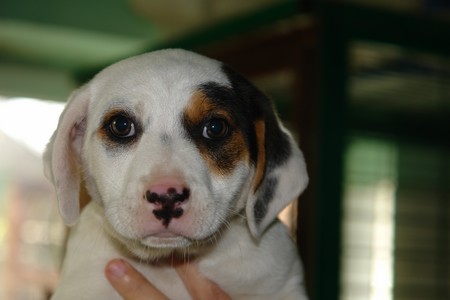 Her luck has gone away now, because her ex-owner can't take of her anymore due to family changes.
She is very people-centered and she loves every dog too. She is very active, she loves to run and walk with people. She has great acrobatic capabilities so we are looking for an owner who have massive fence or where she can live inside the house.
We are adopting her chipped, vaccinated and neutered.
For more information, please call 06 30 221 1299 from Monday to Saturday, from 10:00 a.m. to 03:00 p.m. or personally at NOÉ Állatotthon foundation 1171 Budapest, Csordakút street's end.
More pictures
HERE!!!
A Tetszik gomb eléréséhez sütik engedélyezése szükséges.